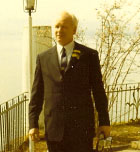 Frédéric Schmid
founder of Régie Schmid
Our services
The Régie Schmid was founded in 1969 by Frédéric Schmid. The latter transmitted his skills to his sons, Bernard and René, in the mid 80. With the years passing, they allowed the company to progress, using good moral values and a professionnal code of conduct and ethic based on integrity and honnesty. Their every day attention on the market's evolution allowed them to offer constantly a performant and polyvalent service. Marc and Raoul Schmid, Bernard Schmid sons gave to Regie Schmid the opportunity to see Regie Schmid enter XXI st Century. By using new technologies, more up to date and performant, they upgraded the agency by offering a quality service, quick and effective, always following the basic values that the family business proned since its start.
Régie Schmid has one goal : yours. The Schmid Family advises you, informs you, guides you and never let you down. No internal rivalities and the mobilisation of our united strenght towards your objectif is one of the multiple assets of a family business. A quality service and a satisfied customer are the result.
Listen to the customers, understand their needs, sell, buy, property-manage, advise…is also a soul business.
If you are a buyer or an Investor
We register your requirements and work on it together and together we chose what meets the best with your needs and your budget.
When a property interests you, we will assist you with administrative help, according to your needs to allow you to fulfill your dream. We will help you to find finance at the best market rates.
If you are a Vendor
The Régie Schmid proposes you a free market appraisal of your property with discretion and no obligation.The Schmid family will show you the best way to sell or manage your property.
Where to find us
The Régie Schmid, based in Nyon with an agency in Geneva, is ideally situated to cover the Leman area from Geneva to Lausanne, quickly and efficiently.